RPI and NOAA's Assessment and Restoration Division (ARD) developed high priority ephemeral data collection guidelines used by NOAA, trustees, and others needed to support injury assessment in the Arctic. These guidelines help ensure that ephemeral data collection address high priority ephemeral data needs, collect data of sufficient quality and quantity to support damage assessments, account for the unique habitats, resources and conditions in the Arctic, and are realistic in addressing challenges when sampling in remote areas.
Conceptual model of Arctic oil spill exposure and injuries. Source: NOAA, 2013.
Guidelines were developed for 8 environmental media, 7 habitats and associated communities, and 2 biological resources.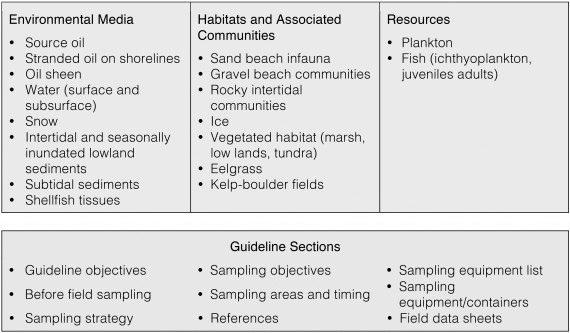 In addition, the final report (available to the public through ARD: http://response.restoration.noaa.gov/arctic-sampling-guidelines) contains supporting guidelines for:
Alternative sampling equipment and methods
Chain of custody
Field photography